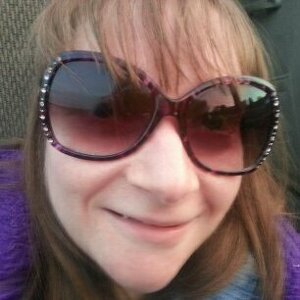 Janelle
My Personal Fundraising Page
Hi, Thank you for visiting my page. My name is Janelle and I am 35 years old. I was diagnosed with Rett Syndrome when I was 2 years old. I was like any other normal infant and toddler. After my second birthday, I started to change. I was losing the skills I gained  in the past 24 months. I could no longer feed myself, play with toys, no longer could speak the words I learned. I could still walk but that changed too. I started walking with a wide gait. That is when Rett Syndrome took over my life. My walking became more difficult however, I could walk with assistance until 4 years agoI
I am raising money for Girl Power 2 Cure, one amazing charities that tirelessly work to fund research to find a cure and treatment for Rett Syndrome.
Thank You!
Sadly, Janelle passed away on February 22,2022. she was 37 years old.Janelle's beautiful blue eyes and long lashes always caught everyone's attention. Her smile could light up a room, her sassy personality was one of a kind. She will be truly missed by her family and many friends.
There are several trials to reverse Retts. The research team is working tirelessly to find a cure for Rett Syndrome.
I am hoping there will be cure. No girl or boy should suffer from this heart wrenching disease.
Thank you for your donation.
Teri
. 
.
My Supporters
Marsha

Praying for a cure!

2 weeks ago

Holly

May 2022

$52.25

Anonymous

March 2022

Anonymous

In Memory of Janelle. We will miss you.

March 2022

$1,045.00

Meaghan

December 2021

$50.00

Meaghan & Rich

Happy Holidays!

December 2021

$50.00

Haines & Kibblehouse, Inc.

January 2020

$261.25

Terri

December 2019
Anonymous

In Memory of Janelle. We will miss you.

March 2022

$1,045.00

Haines & Kibblehouse, Inc.

January 2020

$261.25

Holly

May 2022

$52.25

Meaghan

December 2021

$50.00

Meaghan & Rich

Happy Holidays!

December 2021

$50.00

Joe

December 2019

$50.00