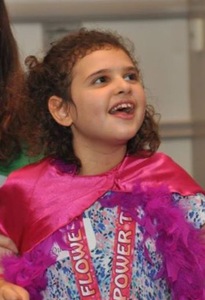 Sarah
My Personal Fundraising Page
Sarah's Awesome Aunt Tayri, Uncle Jonathan and her Mom are running a 1/2 Marathon. We are not runners, but we are going to do this until there is a cure for our beautiful Sarah.
She is truly an amazing 8 year old little girl. She is smart, funny and the strongest girl I know! Her smile lights up a room. She is truly our HERO!!!
All funds will go towards Rett Syndrome Research Trust towards a cure for our Sarah and all the girls affected by Rett Syndrome.
Thank you so much for supporting Rett Syndrome.
#untilshecan  #curerettsyndrome #ReverseRett
My Supporters
Robert

Bless you Sarah! May they find a cure soon!

6 days ago

$25.00

Robert

Sarah, we love you and hope and pray for a cure for Rett syndrome and you soon!

Last month

$25.75

Robert

Bless you Sarah and may your new school be stimulating and fun! God bless you and may they find a cure for you SOON! Love and prayers!

March 2018

$25.75

Robert

Bless you sweet Sarah and may they find a cure soon!!

February 2018

$25.75

Patricia

February 2018

$51.50

Robert

Grace and mercy upon lovely Sarah! Prayers that they may find a cure soon and she may enjoy the fullness of Life!

January 2018

$25.75

Phan-tastic Smiles Dental Office

Sarah, We loved spending time with you yesterday! We pray a cure is on it's way very soon. God Bless you from everyone at Phan-tastic Smiles :)

December 2017

$500.00

brittney angelina allison

December 2017

$60.00
Phan-tastic Smiles Dental Office

Sarah, We loved spending time with you yesterday! We pray a cure is on it's way very soon. God Bless you from everyone at Phan-tastic Smiles :)

December 2017

$500.00

Anonymous

August 2017

$169.95

Rachel

August 2017

$103.00

Seth

July 2017

$100.00

brittney angelina allison

December 2017

$60.00

Patricia

February 2018

$51.50

Robert

For my beautiful cousin Sarah...love you!!

December 2017

$51.50

Jon

December 2017

$51.50