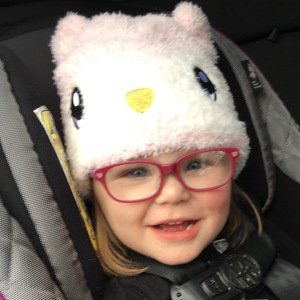 Harper
Harper Bean's Fundraising Page
Help Harper and her friends fund research for a cure and rock Rett!
Harper Bean's Journey thus far...
On 8/16/2013 we welcomed our Harper Jean into the world. At just 5lb 10oz and 18" long she was tiny, but perfect! She quickly earned the nickname 'Harper Bean' or just 'The Bean'. She was welcomed into our combined family that now consists of 4 children, my husband Jeff, and myself. We have my 15 year old step-son Jeffrey, my 6 year old spunky Hayden Grace, our Harper (who is 3) and then finally- Emmett. He's our baby boy who just turned 2.
We were able to go home just 24 hours after Harper's birth. She was an 'easy baby'. She rolled over on time, laughed and cooed and was such a joy. Life was good.
At 6-7 months old I started noticing some alarming things with Harper. Her eyes started crossing, she lost the ability to sit up well on her own, she had many bouts of reflux, ear infections and pneumonia. She failed to bounce on my lap with her legs and she became irritable and fussy. By 12 months she still wasn't crawling or walking and didn't sleep well. She was, however able to clap and feed herself her birthday cake. She started PT and OT at this time.
Emmett was born when Harper was 15 months old and she was intrigued by him and would say "Em....mettttt". It was precious! She also said "Hay....den", "bye" "mommy", "daddy", and "baaaaaby". She even tried to copy me when I told her I loved her.
Around 18 months Harper became miserable and inconsolable! She would cry hours, sometimes days, at a time. No sleep. For any of us. She stopped talking and became withdrawn. She started not being able to control her hands well and began mouthing them- nonstop. This was the hardest phase. Not being able to console her for days at a time was absolutely the worst feeling ever. It took a toll on all of us.
We saw countless doctors and specialists. We were exhausted and distraught. A basic chromosome test turned up nothing. Fragile-X testing was negative. All of the doctors were clueless.
Finally, on 11/7/2016 we received the answer to the mystery surrounding Harper's health problems. And it was devastating. She has a genetic mutation of the MECP2 gene. She has Rett Syndrome. (c. dup 1415_1416 to be exact).
Harper loves school and has the best teachers we could have ever dreamed for! Harper works hard just about every day, and we are all so proud. 

Our sweet Harper 'Bean' has the sweetest smile, the most adorable evil-ish laugh and is feisty and sassy as all get out. She is a serious fan of Buzz Lightyear and Woody- or all things Toy Story related. She is also a HUGE fan of her daddy! She is a fighter. She is tiny, but she most certainly is fierce. 💜
My Supporters (aka My Heroes)
Darlene

February 2018

$25.75

Darlene

We love you Miss Harper will all our heart!!!

November 2017

$103.00

Shellie

October 2017

$51.50

Andrea

Miss Harper Bean, you are a rockstar! I'm so proud to know you and your amazing family! Love you all. Let's get some gene therapy trials going and cure Rett!

October 2017

$100.00

Cristie & David

Always praying for a cure for this amazing little girl!

October 2017

$100.00

Shellie

We love you Harper Bean!!!

October 2017

$51.50

Darlene

To our sweet little granddaughter Harper. We love you with all our heart.

April 2017

$51.50

Harper

April 2017

$10.00
Darlene

We love you Miss Harper will all our heart!!!

November 2017

$103.00

Andrea

Miss Harper Bean, you are a rockstar! I'm so proud to know you and your amazing family! Love you all. Let's get some gene therapy trials going and cure Rett!

October 2017

$100.00

Cristie & David

Always praying for a cure for this amazing little girl!

October 2017

$100.00

Shellie

October 2017

$51.50

Shellie

We love you Harper Bean!!!

October 2017

$51.50

Darlene

To our sweet little granddaughter Harper. We love you with all our heart.

April 2017

$51.50

Darlene

February 2018

$25.75

Harper

April 2017

$10.00