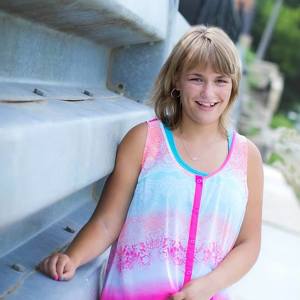 Megan
I wouldn't change you for the world but I would change the world for you!
Learn about Megan, Rett Syndrome and Edgy Meg's
Hi! My name is Megan. I have Rett Syndrome - an awful neurological disorder that messes up most everything I try to do- and it mainly affects GIRLS! Though I have the ability to talk, I can't hold a conversation or express my thoughts very well. I am considered non-verbal but I can hear you. I understand you. I am smart. Also, most girls can't walk. I am truly blessed that I can. There are hundreds of thousands of other girls like me.

Thanks for visiting my web page to learn more about me! I need your help to find a cure!!! Here is my mom and she will tell you more!

Meet my daughter Megan Elizabeth!

Megan is an amazing person; she has a smile that can light up the room. Megan was diagnosed with Rett Syndrome on February 21st, 2004; a day I will never forget. Rett Syndrome has taken away many things from Megan but it has not taken away her loving spirit, infectious smile and sparkling eyes.

She truly touches lives every day and over the years has worked very hard to overcome the odds. Her most apparent symptom of Rett Syndrome is apraxia. Megan is very smart and is always learning things but her brain has problems processing things for output such as speech, fine motor movements, etc…meaning she can not talk and move like she wants to.

She is our hero; teaching us about love, joy, patience, and perseverance. Our lives are full of love because of her.

For many years, Megan attended bi-weekly therapy sessions for Physical Therapy, Occupational Therapy, and Speech Therapy. Therapy ended the spring of 2014. A few years ago Megan joined a dance class that is used as a means of stretching and strengthening. When it was first discovered that Megan may be developing scoliosis, she started receiving weekly massage treatments and chiropractic care. Megan is on the go all the time and she loves it. I do believe all of the traditional and nontraditional therapy that Megan receives or has received each week has kept her mobile!
Some of Megan's favorites include watching Grey's Anatomy and Funniest Home Videos. She enjoys going to church and singing songs. Like any girl, Megan loves to shop!  Along with that she loves to eat out!

Megan graduated from high school in 2016.  We were very scared as to what Megan's future was going to be like after high school as she is a very social person.  We took a strong leap of faith and decided that Megan would be best to live her life with us at home.  She has 3 younger siblings who are all involved in activities and Megan loves to go watch each and every one of them.  
What does Meg do now?  Well, Megan decided that self-employment was her calling!  She is the sole proprietor of Edgy Meg's.  This is a craft and resale shop that features her homemade crafts.  We are beyond blessed to have Meg's aide from school join us in our adventure.  Felicia and Megan are amazing together and they can make the neatest things.  For me, I'm thankful that we can give Megan the opportunity to spread her wings yet be in a safe environment that we have created for her.  Please check out Megan's Facebook page - Edgy Meg's.  Like it and share it with your friends!  If you are ever around NE Iowa stop in and see us!!

As a family we are dedicated to raising awareness and money for Rett Syndrome research and we know that if we all work together, a cure will be found! Research has come so far and I believe a cure could be found in Megan's lifetime.

What could you do to help you ask???

1. Donate money. Research has come a long way and with your support we could find the cure!

2. Be a friend. Megan is an amazing person that will teach you more that you will ever teach her!!!

3. Spread the word. Tell others about Megan, Rett Syndrome, and Edgy Meg's.

So many people have never heard of Rett Syndrome and they will be truly blessed to know Megan. Direct them to this webpage to learn more. I am not afraid to talk! Call me I would love to speak about Megan, Rett Syndrome and how we as a family deal with it all!

Thank you for visiting our page and learning more about Megan! Stop back soon!

Resources:
www.edgymegs.com
www.girlpower2cure.org
www.rettsyndrome.org
www.reverserett.org
My Supporters
Steve &a Becky

So very proud of you Megan! We ❤️ you!

April 2018

$100.00

Beth

I love your spirit Meg. I lI've your family support of you and their advocacy for Rett Syndrome! I wish only the best for you and your future Meg ❣️

October 2017

$51.50

Billie

April 2017

Amy

April 2017

Tammy

April 2017

Kelly

For Meg and her love of shoes!!!!!

April 2017

$25.75

Jeff and Ann

April 2017

$25.75

Terry

You are AWESOME Meg!

April 2017

$20.60
Jeff & Jolene

We are so very proud of you Megan and can't wait to see how you bloom and grow each day!

April 2017

$257.50

Robert & Birdie

Love you Megan, see you in August!

April 2017

$103.00

Steve &a Becky

So very proud of you Megan! We ❤️ you!

April 2018

$100.00

Beth

I love your spirit Meg. I lI've your family support of you and their advocacy for Rett Syndrome! I wish only the best for you and your future Meg ❣️

October 2017

$51.50

Steve & Becky

April 2017

$50.00

Kelly

For Meg and her love of shoes!!!!!

April 2017

$25.75

Jeff and Ann

April 2017

$25.75

Jess

April 2017

$25.75