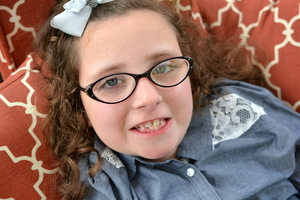 Brynn
Brynn's Fight Against Rett Syndrome
Brynn is 11 years old and the most fun, loving, giggly little girl! She is a determined little girl that continue's to fight against Rett Syndrome.

We reached out to Girl Power 2 Cure shortly after Brynns diagnosis in April of 2009. We felt connected with the other parents who were dealing with the same diagnosis as Brynn and wanted to do everything that we could to help make a difference.

Brynn loves mickey mouse, reading, listening to music and playing with her toys. She uses a big mac that has the ability to work with adapted toys. This gives her the experience that I thought she no longer would have once she lost hand use.

We are so blessed to have been given this sweet girl who has taught us diligence, love, and patience. Brynn may not be able to walk, or talk, but she sure does let you know what she needs through her eyes and she has a smile that will light up the world.
My Supporters
Lynda

April 2019

$50.00

Anonymous

Keep Fighting, Brynn! Love, Matt Nowicki and Megan Jones

August 2017

Kimberly

We are so proud of you Brynn. You've been such a brave girl. Mickey and Minnie Mouse are so proud of you too! Our love always, cousins Kim & Tim

March 2017

$10.00

Steve

Brynn is great!

March 2017

$25.00

Diane

$25.00

March 2017

$25.75

Shannon

#curerett

March 2017

$25.75

Jamie

March 2017

$10.30

Cody & Sarah

We love you, Brynn!

March 2017
Lynda

April 2019

$50.00

Diane

$25.00

March 2017

$25.75

Shannon

#curerett

March 2017

$25.75

Steve

Brynn is great!

March 2017

$25.00

Jamie

March 2017

$10.30

Kimberly

We are so proud of you Brynn. You've been such a brave girl. Mickey and Minnie Mouse are so proud of you too! Our love always, cousins Kim & Tim

March 2017

$10.00