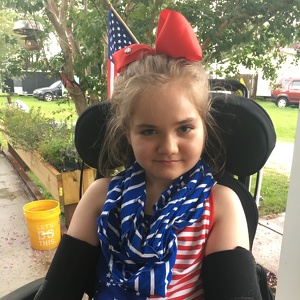 Evie
My Personal Fundraising Page
February 1, 2013. That was our "D" Day. The day we received the diagnosis of (atypical) Rett Syndrome. I knew very little about RS at that time, but I'm a quick study. This news was the culmination of almost two years of testing and searching which came to an end (the searching at least) after a muscle biopsy in November 2012.

What is RS? It is a neurological disorder that primarily affects girls. It takes away their ability to walk, talk, and use their hands. Some girls, like Evie, also develop scoliosis and have seizure disorders. They are at higher risk for Long QT and respiratory infections. But, these are just a few of the things our girls deal with on a daily basis.

Evelyn is almost 5 years old and she is our own personal sunshine. She loves to watch Little Einsteins, Sofia the First, and Doc McStuffins. Some of her favorite things to do are playing her piano and listening to her G-Boss sing. She has a wicked sense of humor which is triggered by physical comedy and silly sounds.

Since starting school in November 2013 she has come a long way! Evie is now walking down the hallway (using BOTH legs) with the help of a Rifton Pacer. She enjoys riding her adaptive bike at school and has become very vocal! Though she is non-verbal, she definitely knows how to get her point across. In December 2014, she received her very own Tobii eye gaze system and we are working on teaching her to communicate using her eyes.

This year (2015) has brought many changes for us. In May, Evie ended up in the hospital after she quit breathing and we learned that she was silently aspirating fluids. The look on her speech therapists face told me all I needed to know. We needed a g-tube. A year ago that would have made me cry, but I felt peace over the decision and we proceeded.

Then in July, she went back into the hospital to have screws placed into her hips. They were slowing moving out of the socket and had progressed enough that something had to be done. Once again we were asked to make a big decision. Once again, I did my research and we gave a green light to her orthopedic surgeon. We are still trying to figure out our new routine, but we're getting there.

Our toddler is transforming into a big girl! Evie lost her first baby tooth with a second one starting to wiggle. She will begin additional physical therapy outside of school to help make up for lost time over the summer and develop those little muscles of hers. Her engagement in her surroundings has grown in the last four months and she even enjoys playing with her Princess Sofia Duplo blocks.

UPDATE: Evie's scoliosis has continued to progress and she is now close to 60 degrees. As a result, surgical intervention has been placed on the table and scheduled for this year (2016). This has been a very big decision for our family and one that has not been taken lightly. We thank you for your continued support and prayers.

*UPDATE (8/22/17): Evie's surgery in 2016 went very well and despite a post-op infection her curve has been stabilized and she is thriving. Since her surgery, she has gone to Disney World for the first time, flown in a helicopter, began aquatic therapy, and has been making progress on her Tobii. Evie started 1st grade this year and we are so excited! She also joined Girl Scouts this year and it has been a great addition to her social activities. Also, she will be having another surgery in the next 2-3 months on her hips to prevent them from further dislocating. 

Her physical and educational progress will continue and we think she is making some amazing progress! Our motto: This girl CAN!

As you read this, research is underway and making progress. Scientists are diligently searching for a cure for Rett Syndrome. One cure has the potential to create tens of thousands of miracles. Please help us make those miracles happen.
My Supporters
Phillip

God will take care of her

April 2018

$25.75

Kristina

c/o Wabtec employees in support of Evie

April 2017

$555.00

Angela

April 2017

$20.60
Kristina

c/o Wabtec employees in support of Evie

April 2017

$555.00

Phillip

God will take care of her

April 2018

$25.75

Angela

April 2017

$20.60