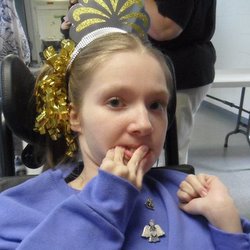 Amanda
My Personal Fundraising Page
Amanda was born on December 25th, 1987 in Salt Lake City, Utah. She was a very quiet baby, hardly ever cried, & ate very little. The only thing she had problems with, was a little bit of reflux, which back then, doctors didn't do much for her. As she grew, she started doing things quite early on, such as sitting up on her own, rolling from one side of the room to the other, and having 2-3 word sentences.

We began her in Early Interventions after we moved to Reno, NV in early 1989. When she was just 14 months old, she had her first seizure, & they began her on Phenobarbitol to help control them. This helped seizures, but made her a very grumpy little girl. After that, she stopped talking, & started back to babbling & cooing, but continued her crawling & rolling. She had been in the Early Interventions for about six months, & they diagnosed her with Autism & CP. It was then that I had to research, as I was not happy with the diagnosis of Autism. I found that Amanda only had some similarities of Autism, & wanted a second opinion. Little did I know she had the severest form Autism.

When she was barely three years old, we moved to California, had taken her to a new Neuro specialist to hopefully change her medications, as I had found out that Phenobarbitol was deadly in mice. When Amanda saw this doctor, he was well informed, changed her medications, & had suggested that Amanda may have Rett Syndrome. He explained that he had worked with Dr. Richard Haas in San Diego, CA. He went on to explain what Rett Syndrome was, & that he felt Amanda should go to San Diego & be seen by Dr. Haas. Amanda was diagnosed with Classic Rett Syndrome in Feb 1991, by Dr. Richard Haas, in San Diego, California. She had been misdiagnosed, as I had suspected, & was told it is common to be misdiagnosed with Autism. Amanda then had to begin multiple tests, & check-ups, & got her very first wheelchair, all before she turned four years old.

Through the years, Amanda has endured so much. She has gone through multiple heel chord, & hamstring surgeries. She went through several years of using back braces for Scoliosis, to no avail. Her curve just kept getting worse, no matter what they tried. In 1996, Amanda had to have Scoliosis surgery, as her curve was putting a major organ at risk. They also did her Fundoplication, & placed a G-Tube at this time. This surgery nearly took her life two times. The first time, her heart stopped in the middle of surgery, so they revived her, closed her up, & gave her seven days to recuperate. The second time, they hadn't even started the surgery, & her lung collapsed. Again, another seven days to recuperate. After being in the hospital 18 days, they finally were able to complete her corrective surgery. She spent a total of 28 days in Children's Hospital in Fresno, CA. Since this surgery, Amanda never regained her ability to crawl, which was her way of getting around.

We moved back to Reno, NV in Feb 2001, ten years, & 3 siblings later. I had not been able to get her back to a Rett Clinic, as they were always just too far to travel for Amanda. Since then, we have moved to Western Maryland, & loving it. Amanda had been very healthy, up until July of 2008, when Pneumonia nearly took her life. With persistence, & a mother's love, I insisted on finding the problem she was having. She had not been eating or drinking well for nearly a week. After three days in the hospital, they found pneumonia, & were able to get her back on track.

After 18 years since her last visit to a Rett Clinic, I am happy to announce that we finally got her into one. Took her to Kennedy Krieger Institute, she saw Dr. Naidu, & we are very pleased to be able to get her there. We plan on taking her back as often as we can. Amanda seemed to be ok with the new doctor. Ironically, this is the same doctor we met back in 1991 at a Rett Syndrome conference, where people there called Amanda the "blonde one". I was very excited to meet her once again.

Amanda graduated in June 2009, from Allegany High School in Cumberland, Maryland. I am so proud of her! Amanda has always been a happy girl. She has her days, just like any of us.There are days still yet, that we are up all night together. Most of these times, she is up having a giggle party, & other times, crying all night.

Now that I can take Amanda to a clinic, I can only hope that someday soon, they will find the cure we so desperately need! It saddens me that every day, Amanda has something to tell me, but can only express her true wants and needs through those beautiful baby blues, & cannot say through words.

In early 2011, she had met a MyTobii Rep in Baltimore while at Kennedy Kreiger Institute for an AT appointment. While the AT "specialists" refused to recommend this device for Amanda, the Rep was impressed how instantly she picked up on the MyTobii in such a short time. He expressed to me that I should find an "outsider" Speech Therapist, & begin working on the main goal... to get started on a trial device from Tobii ATI.

Her new MyTobii Rep, Mary, is AWESOME! Amanda met Mary at the new Speech Therapists office, & got to try out this year's newest eye gaze device, the C15. I have to tell you; that is one magic machine! Amanda had her MyTobii Rep, & Speech Therapist in disbelief! She again took to this device quickly! Even though I knew she could do it, she amazed me!

In July 2011, Amanda was approved to receive a MyTobii for a 3-month trial. When the call came in, the message left not only brought tears, but excitement, fear, and pure happiness! Finally, 23+ years, and she gets her chance to tell me anything, everything!

Once we received the device, I was so scared to do much with it. I then scheduled an appointment with Mary, for some hands-on training for me, and Amanda. That was the most info I have ever had to take in all in 2-3 hours time. WOW! That day, Mary and I both were amazed by Amanda! It was much more tiring to her. That is difficult work! We then took our new knowledge home with us and began working daily on adding new things. Programming this is tedious, but WELL WORTH IT! Made yet one more appointment with Mary & the Speech Therapist, and Amanda "blew them away"! I could not have been prouder!! So I thought! We had one more appointment with Mary at Amanda's Day Program. She was showing off there BIG TIME! They were ALL in total AWE! LOVE IT!

On September 25, 2011, we packed up the MyTobii, and Amanda in the car & headed to church. I was so tired, since I had spent 3 1/2 hours programming her device, into the wee hours that day. This was meant to be. Our church, Christ Memorial Baptist Church, in the little town Westernport, MD, set aside some Testimony time for Amanda! I love this church so much, as they ALL have done so much for our family, and have supported our cause with much LOVE! Amanda did get nervous, she took her time, more than her usual, & that is OK. I asked her to please choose a picture to begin. She may not have done it in order, but that too is OK. I then asked her to please tell everyone about her puppy, & about 10 seconds later, she chose the correct picture to tell about her service dog! I was trying so hard to hold back the tears! I know Amanda loved the laughter, as I had programmed things in her testimony, that she found funny. It made everyone laugh, and gave her favorite person a slight "big head" that day. Pastor loved it, and loved her favorite word in church; AMEN! We both enjoyed the oooos, & aahhhs from the congregation that morning!

On September 28, 2011, I packed up Amanda's trial device, and shipped it back to Tobii ATI. That was the hardest day of all for me in the last 3 months. I cried on the way home, & fell to sleep that night with tears. But, no worries! I have only just begun Amanda's trek to communicate. We had to go through that 3 months like that for a reason...to show proof that she could EXCEL! AND SHE DID MORE THAN THAT! Now on to paperwork, doctors script, & a new recommendation from the Speech Therapist. On to PUSH the PURCHASE of the MyTobii C15 with eye gaze!!!! More to come....

UPDATE!!! 1-27-12 almost 4 months to the date that we returned Amanda's trial MyTobii, and she received her "forever" Tobii today! Record speed for Medicaid I think it was 2 months once they got the paperwork, videos and letters. =) Needless to say, this is one VERY happy mommy! Amanda is overwhelmed with excitement and joy. So now, we begin... we have 23 years of catching up to do! I will be posting videos as soon as I have them made, and learn how to post them! Thank GOD for this miracle!

Thank you all for coming to Amanda's website, to get to know her better. And if Amanda could, she would thank you too. Someday soon, she WILL thank you! We hope you continue to help, by spreading the word about Rett Syndrome, & donating to help find the cure.

UPDATE: We moved to FL on June 10, 2014! We finally got through the issues that was holding is back in MD, and took the leap of faith. We did this for Amanda's health issues, hoping being in a warmer area, would help keep her from getting sick so often. So far, so good. We have much planned for her, and the rest of us, and can't wait until we get all of the doctor's appointments set up. Getting established is always one of the hardest thing to do in a new area, but I have faith! Happy to no be Floridians, and can't wait to see what God has in store for all of us now! Will update more as things get going!
My Supporters
sheri

April 2017

$20.60

Kelly

April 2017

$6.39

Anonymous

We love you to the moon and back again baby girl!

March 2017

$10.00
sheri

April 2017

$20.60

Anonymous

We love you to the moon and back again baby girl!

March 2017

Kelly

April 2017

$6.39