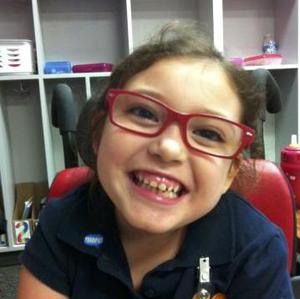 Juliana
My Personal Fundraising Page
Hi, my name is Juliana, welcome to my page!

I am 9 years old. I am very excited you have decided to visit. I was diagnosed with Rett Syndrome in December of 2008, when I was a little over 2 years old.

I cannot talk, or use my hands very well, but I can hear you and I understand you. I am a very social girl, and love to "go places" and spend time with friends and family. This can be a huge challenge for me, as I love meeting new people, and spending time with them, but it's difficult to chat with them or answer their questions in conversation without help from my mom, dad and sister. I use an eye gaze computer to communicate and my signature greeting to people whom I meet and enjoy being around is a connection with my eyes and huge smile.

I am in the third grade at M.C. Lively Elementary School. I love hanging out with my friends and love doing everything that other kids my age like to do, I just need a little help doing them. I use my computer to communicate and my communication flip books to help me with reading and writing. I really enjoy it when my friends help me participate in school activities. I really enjoy reading and working in school with my classmates. I have a 1:1 aide at school, her name is Ms. Bustos and some amazing teachers, Ms. Stewart, Ms. Smith and Ms. Sida. They keep me on my toes and challenge me every day!

I have a sister Olivia whom I love dearly, although I think it's really funny when she gets in trouble! She's my best friend and we do everything together!

Rett Syndrome has taken away most of my independent skills and continuously challenges me to maintain the skills I have. I am intelligent, outgoing, and strong but, the one thing that frustrates me the MOST is my inability to respond the way I want to. I have so much to say, and do, but I am not able sometimes. Even though Rett Syndrome has stolen many of my abilities that most people take for granted, my family chooses to stay positive and is dedicated to raising awareness about Rett Syndrome. My parents tell me all the time about all the things I CAN DO and pushes and encourages me every day to learn new things and live life to the fullest. I want to let you know that there is hope for all of us with Rett Syndrome. Research is moving very fast and in fact scientists have found a way to reverse Rett Syndrome in mice, leaving us with a lot of hope for a cure. I dream of the day when I can walk and use my voice to tell the world what I think and what I believe. What I really need now is your help. Help us tell everyone we can about Rett Syndrome and if you can, donate. The great thing is that 100% of the donations from my Girl Power 2 Cure page go directly to research! I think it's awesome!

Thanks for learning more about me and Rett Syndrome and I hope you'll help us spread the word and tell everyone you know that we are smart, we love life and that GP2C is working hard on our behalf to get rid of Rett Syndrome for good!
My Supporters
Immaculate Solutions

Cleaning for a Cure.....we love you Juj!!

February 2018

$25.75

Melissa

We love you very much!!!

February 2018

$25.75

Melissa

We love you very much Juliana!

January 2018

$25.75

Anonymous

April 2017
Immaculate Solutions

Cleaning for a Cure.....we love you Juj!!

February 2018

$25.75

Melissa

We love you very much!!!

February 2018

$25.75

Melissa

We love you very much Juliana!

January 2018

$25.75